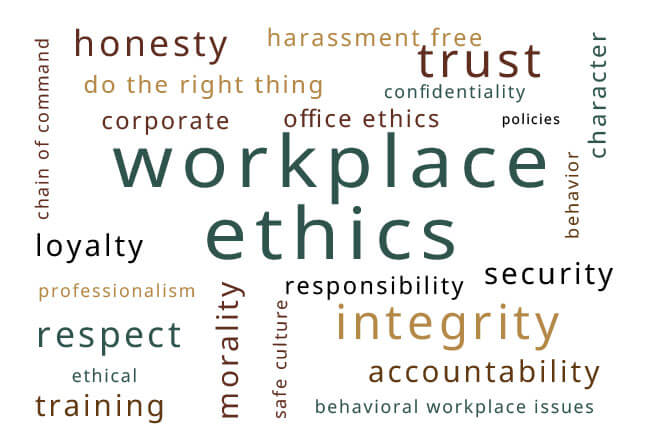 Your ethical choices define who you are!
Nan DeMars - Workplace Ethicist
Nan DeMars is one of today's most internationally-recognized workplace ethicist experts. She is a popular conference keynote speaker, columnist, best-selling author, media ethics consultant, and her ethics training seminars and workshops are considered to be the Gold Standard in the industry. She has helped clients of all sizes and industries create committed, empowered, safe and deeply-ethical environments.
Today's behavioral workplace ethics issues have demanded, like never before, that organizations address behavioral workplace training including office ethics, anti-harassment  and integrity training. Astute management is embracing the ethical conversation and working diligently to establish and maintain The Ethical Workplace® – sometimes referred to as the "Double or Triple Bottom Line."
Nan DeMars is considered the Number One ethics trainer in the administrative management and executive support arena.  As a Past International President of IAAP® (the International Association of Administrative Professionals®), she wrote the first-ever Code of Ethics for the Association and the profession and has never stopped writing, speaking and conducting Ethics Seminars for support professionals.  Nan's Ethics for Admins:  A Reset! program is designed to target all those employees who are frequently caught in the ethical crossfire of business activities.
You've GOT To Be Kidding! How to Keep Your Job Without Losing Your Integrity. (John Wiley & Sons)
What should you do when you are caught in the middle of an ethical dilemma at work?
In today's super-stressed workplace, an ethical dilemma can come at you when you least expect it. Here's how to do the right thing without losing your integrity or your job. You've GOT To Be Kidding will help you create an ethics-based workplace that's a joy to work in. This isn't the usual top-down, executive-only manual, but an approach to workplace ethics that's as relevant and accessible to employees as it is to managers and executives.
Nan's latest book, You've GOT To Be Kidding! How to Keep Your Job Without Losing Your Integrity, is available at bookstores everywhere and on Amazon.com.
DURING THE PANDEMIC ALL SERVICES AVAILABLE BY WEBINAR
Our domestic and international client list is diverse and includes:
Private industry (Small, Medium and Fortune 500)
Higher education (Universities, State and Community Colleges)
Government (Local, County, State & Federal)
Associations, Agencies, and Societies